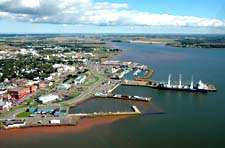 The City of Summerside is only 15 minutes away and offers all the conveniences and a multitude of grocery stores and health facilities.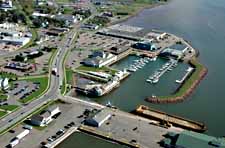 Summerside: Silver Fox Country Club & Marina (also Curling), Spinaker's Landing (Shops), Waterfront Mall, Harbourfront Jubilee Theatre.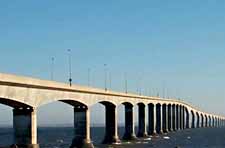 The same Confederation Bridge as seen from Sunbury Cove Estates and pictured at the top of this page. The link from New Brunswick to PEI.
Airports
Slemon Park (Summerside): 5 minutes.
Charlottetown, PEI: 50 minutes
Moncton, New Brunswick: 90 minutes.
Halifax, Nova Scotia: 2.5 hours.

Medical & Health Care
Prince County Hospital: Summerside offers a brand new state of the art Hospital including 24 hour Emergency services, ambulance, and helicopter-pad.
Dental, Chiropractic, Massage facilities available through city.
Also for your pets; several Veterinarian Clinics.
The new Summerside Wellness centre offers many facilities including a pool; Credit Union Place.

Shopping
Summerside offers two large malls; Waterfront and County Fair Malls, as well as numerous stores on Granville, Water Streets, and speckled throughout the city.
Two liquor stores are available, one at each mall.

Automotive Dealers
Summerside offers GM, Ford, Chrysler, Honda, and Toyota dealers.
Several garages are available for service of all makes and models.

Churches
Available in the local area and in Summerside.