"... I do a lot of travelling and looking around in PEI -- I was born here and have lived here all my life; I have to say, you guys have (by far) one of the best locations on the island...", Gary M., PE.

"I have never seen a location where I can get a panoramic waterview from every room in the house...", Bill Harnett, Builder, Victoria, BC.

"I believe this to be the best investment in PEI. That's why I personally purchased in Sunbury Cove." ... Michael Poczynek, Century 21 Northumberland, Waterfront Specialist since 1997.

"Your development and promotion of the property is everything and more than we expected. The area is beautiful...", Theresa, Home Owner, Watson, SK.

"Once you see Sunbury Cove Estates; you want to stay...forever.", Nancy D., Lot Owner, Montreal, QC.
Imagine owning a piece of this idyllic waterfront property... your corner of the world to escape, relax and unwind. Picture perfect views from every angle, the warm waters of the Northumberland Straight, golden sunsets and nature at its best make this one of the most desirable locations in Prince Edward Island.

Every time you visit this property, you will love it even more... it is so peaceful and picturesque.

Along the North Cape Costal Drive, our mostly undeveloped 240 acre parcel is ideally located down a historic private road that only leads to Sunbury Cove Estates. Total privacy and low traffic is assured. Back in the 1800's and early 1900's this was home of the Beach Point, Black Point, and New Workington Farms. This land has a very slight slope from the entrance to the shore giving each and every lot a panoramic view; many with a back drop of the Confederation Bridge, Sunbury Cove, and Sunbury Point.

These extra large lots are located on the South Shore; offering the warmest waters north of the Carolinas.

All lots include underground services, covenants to protect your investment, English style lamp posts, and a buffer zone to guard against erosion.

Surrounded by a natural habitat, sandy beach for miles, birds, streams, and a 270 degree view of Sunbury Cove and the Straight. In the distance, New Brunswick.

Watch the fishing boats, hear the waves, feel the light breeze from a gentle wind from every lot in the sub-division.

An enjoyable scenic waterfront 15 minute drive (15 Km) to Summerside; local shopping includes large grocery stores, Wal-Mart, liquor stores, shopping malls, Yacht Club, health clubs (YMCA, Iron Haven Gym, Curves, many more), restaurants, and much more.
---
Location of Sunbury Cove Estates: (click on map image to enlarge)

Locating Prince Edward Island
in North East North America

Locating Sunbury Cove Estates
in Province of PEI

Locating Sunbury Cove
Estates in Western PEI

Close up from Rte #11
West of Summerside
---
Survey with Aerial Photo Backdrop: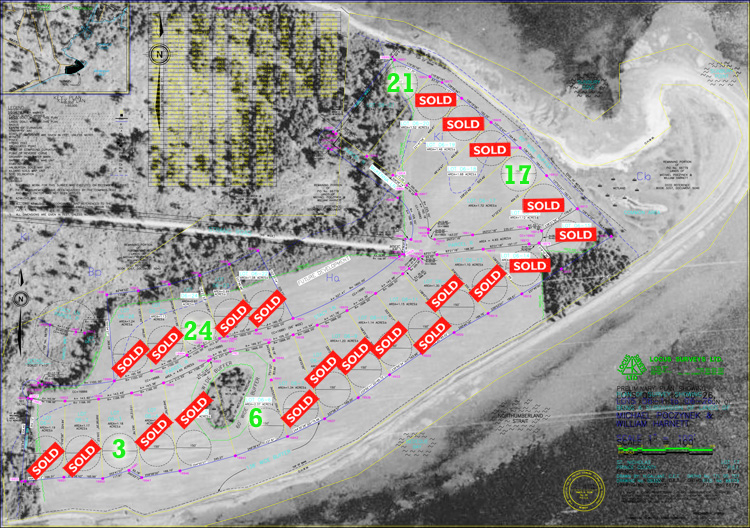 Final Approved Survey:

Black & White Version (920K) |

With Aerial Photo (4.3M)


Sunbury Cove Brochure | New Home offered for sale | Download PDF reader here (if required)

Properties & Pricing
Attractive Financing Rates Available.
Lot#
Acreage
Waterview/Waterfront
Price CAN$
06-1
1.19
Waterfront
SOLD
06-2
1.17
Waterfront
SOLD
06-3
1.18
Waterfront
$CALL FOR SPECIAL PRICING
(902)888-8860
06-4
1.31
Waterfront
SOLD
06-5
2.07
Waterfront
SOLD
06-6
2.37
Waterfront (Double Lot)
$CALL FOR SPECIAL PRICING
(902)888-8860
06-7
1.34
Waterfront
SOLD
06-8
1.17
Waterfront
SOLD
06-9
1.20
Waterfront
SOLD
06-10
1.4
Waterfront
SOLD
06-11
1.15
Waterfront
SOLD
06-12
1.3
Waterfront
SOLD
06-13
1.1
Waterfront
SOLD
06-14
0.90
Waterfront
SOLD
06-15
0.96
Waterfront
SOLD
06-16
1.12
Waterfront
SOLD
06-17
1.72
Waterfront
$CALL FOR SPECIAL PRICING
(902)888-8860
06-18
1.68
Waterfront
SOLD
06-19
1.46
New Luxury Beach House For Sale
SOLD
06-20
1.52
Waterfront
SOLD
06-21
1.56
Waterfront
$CALL FOR SPECIAL PRICING
(902)888-8860
06-22
1.08
Waterview
SOLD
06-23
0.99
Waterview
SOLD
06-24
0.97
Waterview
$CALL FOR SPECIAL PRICING
(902)888-8860
06-25
1.3
Waterview
SOLD
06-26
1.24
Waterview
SOLD
Other properties may be available,
please contact us for more information.

Protective Covenants |

Optional Maintenance Agreement |

Sunbury Cove Brochure

All prices in Canadian Dollars. HST Federal sales tax applicable of 14% of the sale price. Purchaser responsible for all legal fees. In order to protect your investment all lots subject to Protective Covenants. An optional Maintenance Agreement is also available. All information believed to be accurate, but subject to change without prior notice.